Untold – The Inside Story by its Founder in a Three-Part Tell-All Expose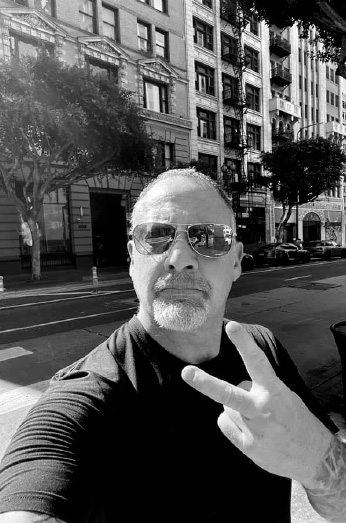 Adam Zuckerman, founder of Progenex – an international sports nutrition company, emerges from the shadows after 10-years to tell the true accounts of great invention, criminal fraud, and what he intends to do about.
In 2009, Adam Zuckerman, an American finance entrepreneur partnered with Dr. Scott Connelly, famed inventor of MET-Rx, an American brand of nutritional supplements Connelly sold to Rexall Sundown for $108 million in 2000, currently owned by NBTY.
After 9-years of retirement, Connelly wanted back in the game and launched Progenex Dairy Bioactives, Inc., a bio-nutritional/medical start-up, consisting of a patented and proprietary product Connelly named "Recovery."
Recovery, as its name implies, was a consumable whey-protein hydrolysate Connelly co-developed with largest dairy producer in Australia, Murray Goulburn Co-Operative Co. Limited (MGC), acquired in 2017 by Saputo (TSX:SAP) for $1.2B. MGC and Connelly co-created a unique substance called Whey Growth Factor Extract (WGFE), which was discovered by tracking RNA expression signatures to reveal which genes were involved with muscle growth, metabolism, and inflammatory response. The product was noticeably effective and it was pricey because it was costly to make. As part of Connelly's agreement to co-develop WGFE, MGC granted Connelly an exclusive license to market WGFE in the United States, provided he could meet minimum production thresholds for raw materials. Connelly needed a business partner and capital.

Prior to founding Progenex Dairy Bioactives, Inc. with Zuckerman, Dr. Connelly began his career as an anesthesiologist.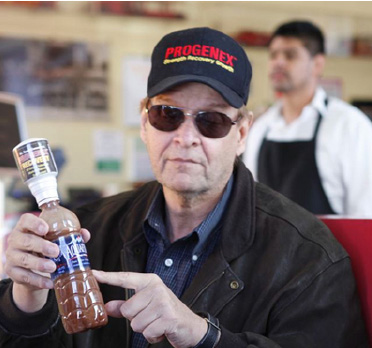 Dr. Connelly worked in the hospitals burn unit, which is where he discovered that healing from wasting or damage to human tissue was to occur from the inside out not topically. Simply, while the medical and pharmaceutical world raced to create a topical solution for tissue regeneration, Connelly created a digestible consumable that would not only prove to regenerate tissue in burn victims and slow wasting, but in anyone who needed fast repair and recovery. These findings led to the creation of Progenex "Recovery" – the company's marquis product, but not before Connelly made his bones a decade earlier, where many sports-fitness enthusiasts consider Scott Connelly the Godfather of industry.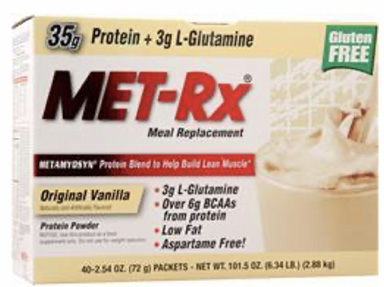 MET-Rx is best known for pioneering a new category of bodybuilding supplements known as meal replacement powders or MRPs.
It was also involved in the androstenedione controversy in the late 1990s. As noted above, the original MET-Rx product was intended to help prevent critically ill patients from losing muscle mass. Connelly's product was marketed in cooperation with Bill Phillips and the two began marketing to the bodybuilding and athletic communities, launching sales from the low hundreds of thousands to over $100 million annually.
Connelly sold all interest in the company to Rexall Sundown for $108 million in 2000. MET-Rx is currently owned by NBTY
Connelly's intended application for MET-Rx was the medical sector, as with Progenex to follow, where MET-Rx fast became the gold standard for the bodybuilding community worldwide for obvious reasons in the 80's – lifting weights is a process of repeatedly tearing tissue and requiring fast repair. And Connelly wasn't shy about being the poster boy for his brand, nor did he pose in a lab coat. Quite the contrary, where beyond his exhaustive credentials as a protein science pioneer and MD, who revolutionized an industry, Connelly was ripped and often posed with dumbbells in his hands and a tank top for advertisements and interviews.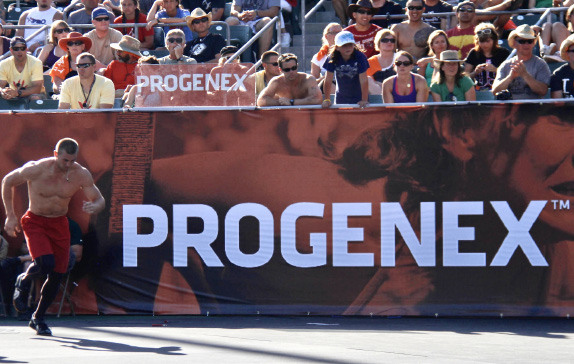 Enter CrossFit. Progenex gains significant momentum as the title sponsor for CrossFit and becomes a national brand.
Greg Glassman, founder of CrossFit, met with Zuckerman and Connelly in 2011 to strike a deal with Progenex as title sponsor for the CrossFit Games. CrossFit was just becoming a household name, which attracted Reebok in 2014, squeezing Progenex out.
CrossFit, a branded fitness regimen that involves constantly varied functional movements performed at high intensity. The method was developed by Greg Glassman, who founded CrossFit with Lauren Jenai
in 2000, with CrossFit its registered trademark. The company forms what has been described as the biggest fitness chain in the world, with around 12,000 affiliated gyms in over 150 countries as of 2022,
under half of which are located in the United States.
CrossFit, meaning cross-discipline fitness, was conceived as a company in 1996 as Cross-Fit. Greg Glassman and Lauren Jenai incorporated CrossFit, Inc. in 2000. They opened a gym in Santa Cruz, California in 2001 and posted their workouts on the Internet for their clients, and these workouts were then quickly adopted by individuals in the police, military, firefighting services. The first affiliated gym (known as 'box') to form was CrossFit North in Seattle, Washington when Glassman's internet postings were used by those who wanted to officially incorporate his workouts into their training regimen in 2002.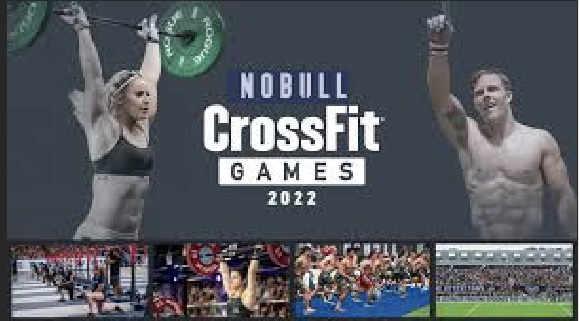 Glassman obtained complete control over the company in 2012 after a divorce with Jenai, who tried to sell her share in the company to an outside party after the divorce settlement, but Glassman bought it with a $16 million loan from Summit Partners. In June 27, 2020, CrossFit sold to Eric Roza, a tech entrepreneur who made his name and fortune with a data company he sold to Oracle for $1.2 billion in 2014. Roza, 53, according to one source, paid $200 million buying CrossFit Inc.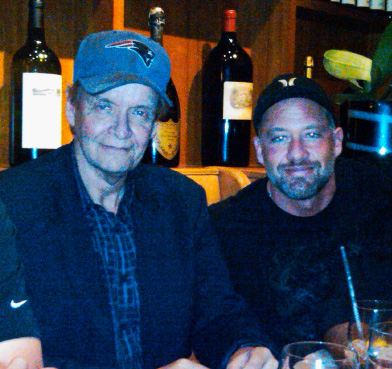 Connelly and Zuckerman go to war over Progenex before the ink even dries.
In May of 2010, Zuckerman brought suit against Connelly for breach of contract. Both said to have egos as large as the Grand Canyon, Zuckerman emerged victorious in 2013 after a three-year legal blood bath, winning all of Connelly's shares for $1 dollar. But this is merely where the story begins. Progenex had become an industry leader and was about to go international, but Zuckerman had other issues looming.
Zuckerman was released from prison in late 2013 after beating trumped-up charges by the government, which led to a decade of secretive activities that to this day remain sealed by the Feds. It is believed that his 7-year relationship with the government prior to founding Progenex, not only assured Zuckerman's early release but would make his government enemies into allies and Zuckerman forever untouchable.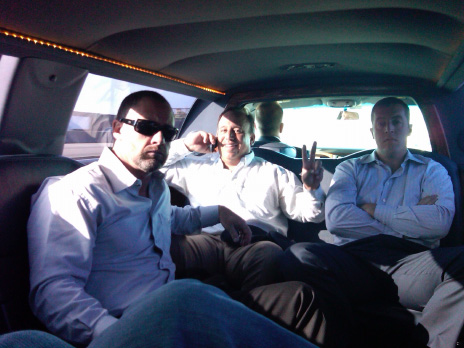 After just 14-months, on October 14, 2013, Zuckerman was released from Terminal Island Federal Correctional Institution, expecting to retake control of the Progenex empire he had won from Connelly. But his chief underling, Ryan Page, who would be later sued by CrossFit for trademark infringement, along with Steve Shamion, a trusted investor Zuckerman appointed as temporary Manager to protect his assets had other plans. Shamion and Page saw dollar signs, and instead elected to conspire to steal Progenex from Zuckerman and his ex-wife, Patricia Robinson, who Zuckerman gave full control of Progenex through its managing entity, Amidah LLC, and 40 investors. (See related court transcripts).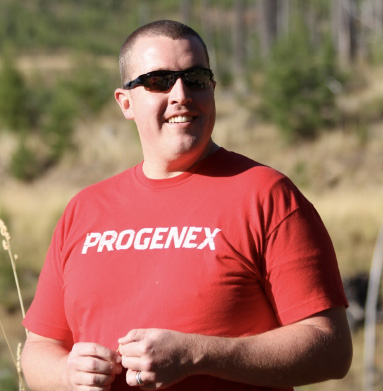 Zuckerman met Page four years prior to founding Progenex, rescuing him from a company he ran into the ground in Las Vegas with Luke Adams, who currently serves as Progenex' dirty CFO.
Zuckerman refers jokingly to Page as the M&M pirate – a tongue-in- cheek descriptor of Page, who would eat an entire large bag of peanut M&M's in every meeting, and hides his identity as Progenex' puppet master. Page is hidden from sight by design, and not merely to avoid a head on collision with the legal freight trains coming for him.
Page is anything but a poster boy for a global sports-nutrition brand that caters to an elite athletic market. He not only lacks expertise in the field or requisite credentials to develop these products, but bears no physical resemblance to the exclusive athletes the products cater to. Page is a fraud in every way, and continues to thwart authorities and the courts, after being found culpable for defrauding over 40 investors, pilfering Progenex corporate assets, and failing to turn over the company to investors and Patricia Robinson. Page, along with his entire family, Luke Adam's, and Paul Gomez, Zuckerman's ex brother-in-law, are all alleged to be co-conspirators, helping Page to scatter Progenex assets around the world in a hide and seek game of catch me if you can.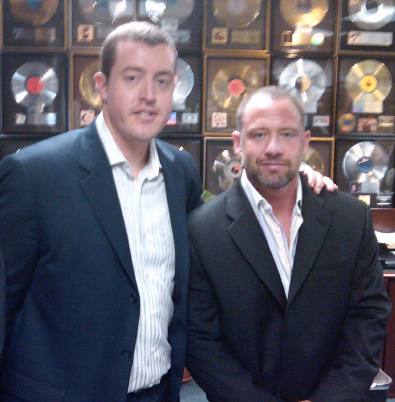 Page not only illegally controls Progenex, but has his hands in every pot, using sub-entities he owns and controls as the company's vendors. From manufacturing to shipping and co-packing, Page created a tangled web used to fleece the company and its investors in every way, including changing the long-established website address from www.progenexusa.com to www.progenexfit.com, to the avoid seizure of Progenex assets ordered by the courts.
Paul Gomez, who started as a warehouse boy for Billabong, a global surf brand, under then CEO Bob Hurley, founder of Hurley International, sold to Nike, apparently contributed nothing more than t-shirts to the supplement maker, and serves as a pin up patsy for Page. Zuckerman describes Gomez as an "illiterate parasite that betrayed his entire family," along with wife Stephanie, Patricia Robinson's sister. Robinson remains to this day the rightful heir to the Progenex throne, where Zuckerman put the controlling entity, Amidah LLC in her name for safekeeping prior to serving his prison term.
Page viciously targeted Robinson after Zuckerman let the legal wolves loose on Page, blackmailing her to backdate documents that would disavow her control and rights to Progenex. When Robinson refused, Page illegally ceased paying her distributions from the company, along with the rest of the Progenex investors. Not a single investor has received a dollar in profit or return on their investment to date, while Page lines his pockets and continues to deceive and defraud Progenex customers.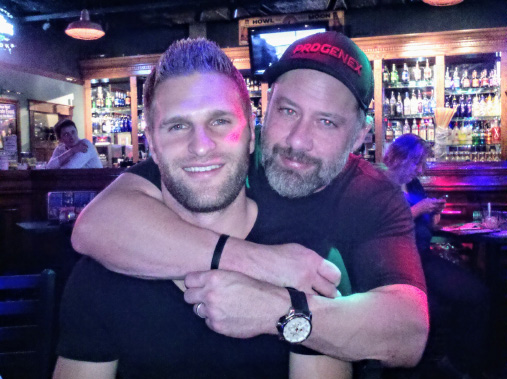 To say that Zuckerman has been lurking in the shadows all this time related exclusively to the Progenex saga would be inaccurate. Zuckerman has been anything but inactive.
Zuckerman knew he needed to be patient. After Zuckerman's release in 2013 as noted above, Page and Shamion, along with Dwight Beckstrand, Progenex' now disgraced former corporate counsel, who faced domestic violence charges, instead of returning Progenex to Zuckerman as agreed, conspired to destabilize and oust Zuckerman.
Page began plucking off, one by one, Zuckerman's internal founding team at Progenex while he was serving time. In a Lord of The Flies-esque corporate kill off, Aaron Thomas, who raised most of the early startup capital for Progenex from over 40 close investors and family, was the first to go. Then came Cameron Verdi, a close friend Zuckerman salvaged from the loan modification business, who would later attempt his own coup by high jacking Amidah from Zuckerman's ex-wife Patricia Robinson with no legal authority.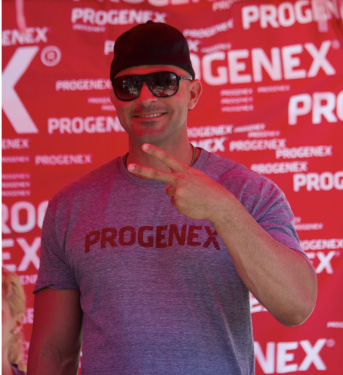 Cameron Verdi, who imposters as a founder was nothing more than a mid-level employee who Zuckerman appointed as a Wooden Indian to manage Amidah LLC under his direction.
Zuckerman is well known for making outrageous public commentary without restraint. When asked, Zuckerman explains that he simply says out loud what everyone else thinks. Zuckerman describes Verdi as a "nobody opportunist, dumber than his dog," which is a bold statement considering Zuckerman's love of animals.
Per Zuckerman and according to filed corporate documents, Verdi lacks any legal authority as a decision maker for Amidah LLC, the controlling entity and largest shareholder of Progenex. Verdi simply vexatiously interfered and bungled efforts to retake control of Progenex from Page. Patricia Robinson, Zuckerman's ex-wife is the managing member of Amidah, owning 90%, and more than 45% of Progenex in the aggregate. Robinson remains in legal control of Amidah and therefore Progenex.
Any significant actions on behalf of Amidah must be authorized by Robinson, including but not limited to, bringing and settling litigation. But Verdi, per Zuckerman is "an unscrupulous troglodyte, who took advantage of Robinson's lack of sophistication and turned on his master, Zuckerman." And worse, Thomas Frost, the San Diego lawyer retained by Zuckerman to take the case, allowed it, and refused to talk to his actual client, Patricia Robinson.
Not only did Frost fail miserably in court using Zuckerman's airtight roadmap and evidentiary file of over 2000 organized documents, but allowed Verdi to subvert Robinson, who is his true client, causing a four-
year stall to retake Progenex from Page. Zuckerman indicates that Frost should have been sued for malpractice and disbarred. And so should Judge Margret Nagle, according to Zuckerman, who had been stymied for 4 years in finalizing her ruling for these very reasons. Zuckerman remains emphatic that Judge Nagle failed to do her job. According to court transcripts and per Zuckerman, Judge Nagle was as well dumfounded related to how Frost was able to proceed without Robinson's authority. In fact, Judge Nagle asked that Zuckerman testify to these facts as part of a recorded testinomy soon to be published.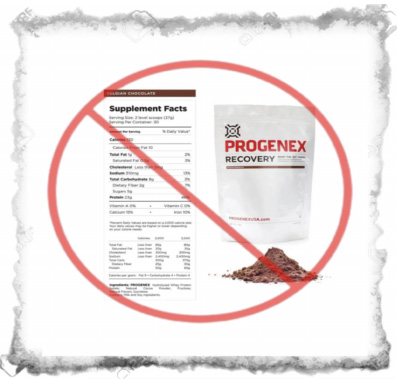 Progenex is no longer the patented formula Dr. Connelly invented. Page uses Glanbia Nutritional's patented whey-hydrolysate, Thermax 690, in both More Muscle and Recovery, the company's marquis products.
The Connelly/Zuckerman war suffered many casualties, among them MGC and with it WGFE – the secret sauce that made Recovery and More Muscle unique. MGC severed ties with Connelly after Zuckerman won the company back. The formula is not sold by anyone in the US currently, but Zuckerman plans to change that. Connelly and MGC had published significant science behind WGFE's efficacy, while Page buried independent lab reports that prove Progenex products lack of efficacy, and are nothing more than overpriced cheap whey, along with label fraud claims. Zuckerman claims Progenex is a fraud, and anyone can buy Thermax 690 from Glanbia or competitive alternatives that are superior hydrolysates, and Zuckerman intends to make sure they do.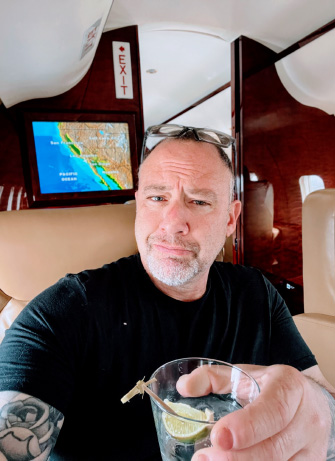 Zuckerman doesn't want Progenex, just its customers. Making deals with Progenex competitors, he plans to introduce WGFE 2.0 to millions of Progenex customers who will fast jump ship as the truth comes out.
Armed again with deep pockets and a dream team of high-powered lawyers, Zuckerman has no intention of picking up where Progenex and the lawyers failed. Zuckerman has other plans, and intends to disclose the brands fraud, along with Page, and migrate millions of customers to a recognized industry leader and announce a its full suite of WGFE 2.0 alterative product for less. (Soon to announced)
Zuckerman had his plan, and knew timing was key. Waiting patiently for the statute of limitations to run out for the government, who had been hunting his war chest for a decade, Zuckerman has quietly amassed a new army while reclaiming his resources to strike.
In a 3-part live streaming interview, conducted by high-level CrossFit influencers, and redirected back to www.progenexuntold.com, Zuckerman will tell the entire story from start to finish to what is expected to be a significant audience. But it doesn't end there.
Zuckerman wants the customers to know the truth about Progenex and Page, and understand that they are being ripped-off, lied to, and are lining the pockets of a thief, Page – who not only betrayed the market, but has harmed innocent people and their families. Zuckerman believes that customers will be outraged and abandon the brand for new options – a safe landing where Zuckerman holds equity and can repay investors. Zuckerman's team of internet mercenaries are prepped to get the word out via Twitter, Instagram, email, Google, and even to cell phones of customers directly.
Stay Tuned for Part II of Untold : Zuckerman's live streaming interview dates, surprise guest host, and the launch of www.Progenexuntold.com.